About Morris Auto Parts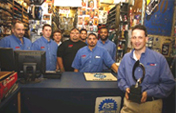 Since 1922, Morris Auto Parts has supplied the Philadelphia automotive community with high quality parts at reasonable prices. Whether you need parts, tools, paint supplies, or other specialty items, we're here for you. Call us today or click here to use our web contact form. Do you have what it takes to be part of our team? Click here to explore employment opportunities with Morris Auto Parts today!

Click the ePart logo to lookup parts, prices,and ordering!
Have a great day!
Morris Auto Parts
MISSION STATEMENT
Our Company mission is : to service our customers through professional employees who always have the technical and logistical knowledge to get the right product, consistently delivered in the shortest possible time, to create the highest profit for the customer on each and every job.

MEMBERS Want to save BIG $$ Click here and join our members-only promotions list.
Morris Auto Parts

2861 Kensington Avenue
Philadelphia, PA 19134
(215) 425-0800
customerservice@morrisautoparts.com

HOURS OF OPERATION

Sunday - Saturday: 7:30AM - 9:00PM

Parts Specialists - Rob, Walt, Frank, Mike, Martin, Pedro, and Stuart

Dispatch - Pete

Click the map for detailed maps and driving directions from your location to ours.


View Larger Map
Register for our monthly email specials & Receive a $10.00 Off Coupon!
News and Info
Morris Auto Parts Store Hours
Sunday - Saturday: 7:30AM - 9:00PM